粉嫩公主酒酿蛋是一款怎样的产品呢,粉嫩公主酒酿蛋是
丰胸产品
清朝民间流传下来的一款丰胸产品,主要以天然能量为
粉嫩公主酒酿蛋丰胸效果
诉求,经过现代的科技改良后,以实用和实效为特点,是一款100%纯植物提取的美胸品牌。采用的
粉嫩公主酒酿蛋丰胸
都是天然有机食材:酒酿原汁、土鸡蛋、珍珠糯米、姜汁红糖、泰国野葛根提取物,真正做到健康、安全、便携、高效的
丰胸效果
口碑产品。粉嫩公主酒酿蛋丰胸解开女人的幸福密码!
Techcon Valve
TS5400 Series Needle Valves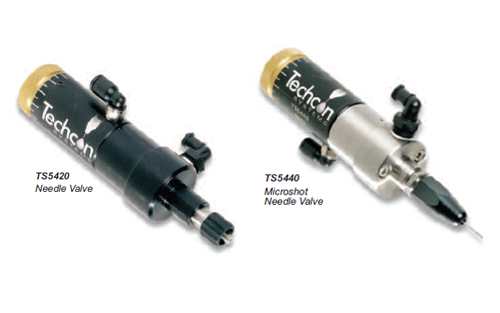 Needle Valves dispense very precise deposits over a wide range of shot
and bead sizes due to a minimal dead fluid zone. An external stroke
control adjustment to fine-tune shot sizes. Easy to maintain, with little or
no downtime. The compact design and easy-mount threaded hole allows
for easy integration into automated applications.


The TS5420 Adjustable Needle Valve is a pneumatically triggered singleacting
valve that can be used with an integral spring close (single action)
or may be connected for air closing without the spring (double acting).


The TS5440 Microshot Needle Valve, with its needle closing the fluid path
directly on the cannula inside the dispensing tip hub, can dispense very
precise deposits down to 0.0005 cm3.

Key Features:
• Precise and consistent shot sizes
• Adjustable flow control
• Zero dead fluid zone
• Simple and low maintenance design


Typical Applications:
To dispense microdots of low viscosity fluids such as: solvents, inks, oils,
activators, primers; the TS5440 is excellent to dispense microdots of UV
adhesive used in medical device manufacturing.
TS941 High Pressure Spool Valve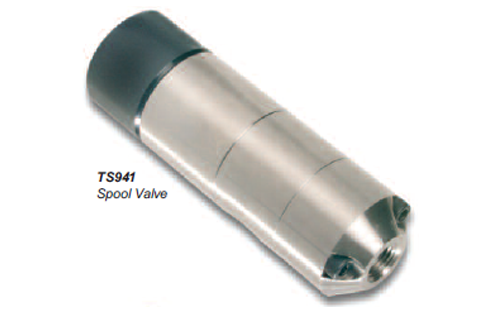 The Spool Valves provide precise shot accuracy along with "high volume"
capacity over a range of material viscosities, shot sizes and pressures.
They feature "suck back" anti-drip as well as a fast on/off dispensing
function that is not affected by material input pressure. An optional oil
chamber creates an additional liquid seal to prevent moisture from being
carried on the spool, excellent for moisture sensitive materials.
Pneumatically activated, the valves can be used with an internal spring
close (single acting) or an air-closing connection (double acting).


Output is a 1/4" NPT which allows multiple types of tips to be used.
TS9200D Series Jet Tech Valve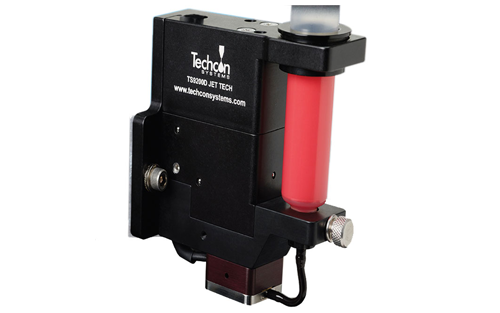 The TS9200D Jet Tech is a non-contact dispense valve capable of jetting fluid viscosities to 400,000 Cps. Jet Tech offers a fast jetting action producing hundreds of precise droplets in less than one second.

The main feature of the valve is a single, easily replaceable diaphragm to eliminate dynamic fluid seals found in other jet valves. No longer is it necessary to disassemble, clean and replace worn seals, which translates into saving time and money. The diaphragm also allows fast cycle rates because of its very small mass. There is no large sliding valve stem that slows down the process. With this novel diaphragm design, the energy needed to eject a drop can be adjusted providing a wider process window.

The TS9200D Series Jet Tech is available in the following configurations:
• TS9200D-125E Jet Valve EPDM Diaphragm, 125µm Nozzle
• TS9200D-150E Jet Valve EPDM Diaphragm, 150µm Nozzle
• TS9200D-200E Jet Valve EPDM Diaphragm, 200µm Nozzle
• TS9200D-125S Jet Valve Silicone Diaphragm, 125µm Nozzle
• TS9200D-150S Jet Valve Silicone Diaphragm, 150µm Nozzle
• TS9200D-200S Jet Valve Silicone Diaphragm, 200µm Nozzle

Fueatures
• No fluid seals to clean or replace
• Up to 300 drops/ sec
• Outstanding repeatabilty
• Viscosities up to 400K cps
• Drops as small as 10nl
• Integral heater with minimal fluid heated
• Tungsten carbide internal components for long life
• Quick and simple maintenance
TS7000 Interchangeable Material Path (IMP) Rotary Valve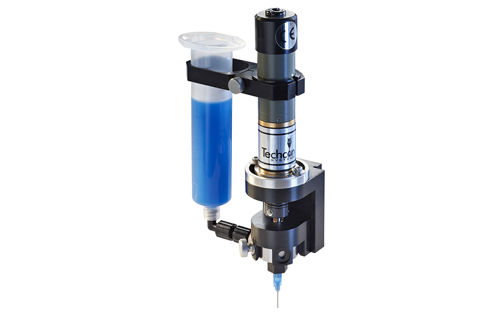 The TS7000 Series IMP Rotary Valves are the latest additions to the Rotary Microvalve family. The valve uses a feed screw (auger) to dispense fluid with a rotary displacement action, allowing ultra-precise control of the dispensing process. The valve′s modular design allows quick and easy replacement of the feed screw or chamber cartridge assembly without removing the valve from the machine. In addition, the valve cartridge can be interchanged to use with

TS5000DMP feed screw inserts. The TS7000 Series IMP valve is available in 3 choices of feed screw sizes (16-pitch, 8-pitch and high output 8-pitch), all made of precision hardened tool steel. An encoder motor version is available for applications that require closed-loop motor control with encoder feed back.

Features[ or B]
• Quick and easy feed screw or chamber cartridge changeover
• Divorced cartridge assembly design prevents fluids contamination of the motor
• Accurate and repeatable dispensing output
• Precision and durable feed screw or chamber
• Field replaceable spare parts
• Low-maintenance design
• Interchangeable with TS5000DMP valve body
• Flexible syringe mounting position
• Flexible needle installation position
• Flexible encoder position (encoder version)
• Closed-loop motor control with encoder feed back (encoder version)
TS5322 Mini Spool Valve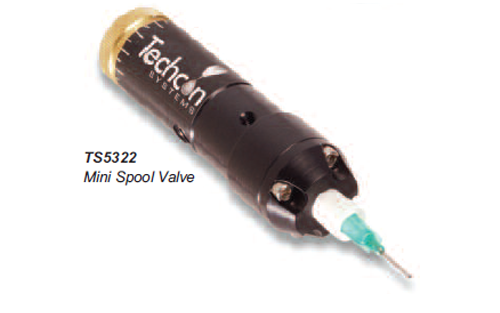 The TS5322 Series Mini Spool Valve is designed to dispense medium to high
viscosity fluids with very precise deposits, over a wide range of shot and bead
sizes. An internal spring return makes the valve fully adaptable for use with any
time/pressure controller. A short opening stroke provides extremely fast, positive
shut-off. An external adjustment makes it easy to fine tune "suck-back" level. The
TS5322's compact design allows for mounting flexibility and easy integration into
automated applications.